---
HAMBURGS BIGGEST
MODELRAILWAY IN 1 GAUGE
must be demolished at the beginning of 2023 due to the renovation of the Museum Für Hamburgische Geschichte.

The management of the "Stiftung Historische Museen Hamburg" and the "Museum für Hamburgische Geschichte" are currently planning to redesign the Museum für Hamburgische Geschichte. At the beginning of 2023, after more than 73 years, MEHEV's historic transport model railway will have to be demolished and rebuilt in smaller premises and in a different form, which will change its previous flair. Take the opportunity to experience the still existing, meanwhile historic model railway layout at its present location in operation. (see also BDEF Report 01/2018(german))

---
FASCINATION RAILWAY!
"Aboarding please..."
The "Modellisenbahn Hamburg e.V." operates in the Museum für Hamburgische Geschichte ("Museum of Hamburg History") a model for more than 70 years of the station "Hamburg-Harburg" with its access and including the pier and the pier lane and the Hamburger Hauptgüterbahnhof, which is now in the model no longer exist. In the attachment the steam locomotive has regained its once dominant position not yet sold, but also diesel locomotives and electric locomotives present to you
a century of railway history in Hamburg on a traffic-historical model.
---
Participation activities

from 19 to 29 August 2022 from 11 a.m. to 4 p.m.
Gauge 1 railway models to drive yourself
MEHEV digital modular railway
in the Museum Für Hamburgische Geschichte

After a long preparation phase, the Mehev youth group now trumps with the self-built modules.
We are happy to show our results to the interested public for the first time.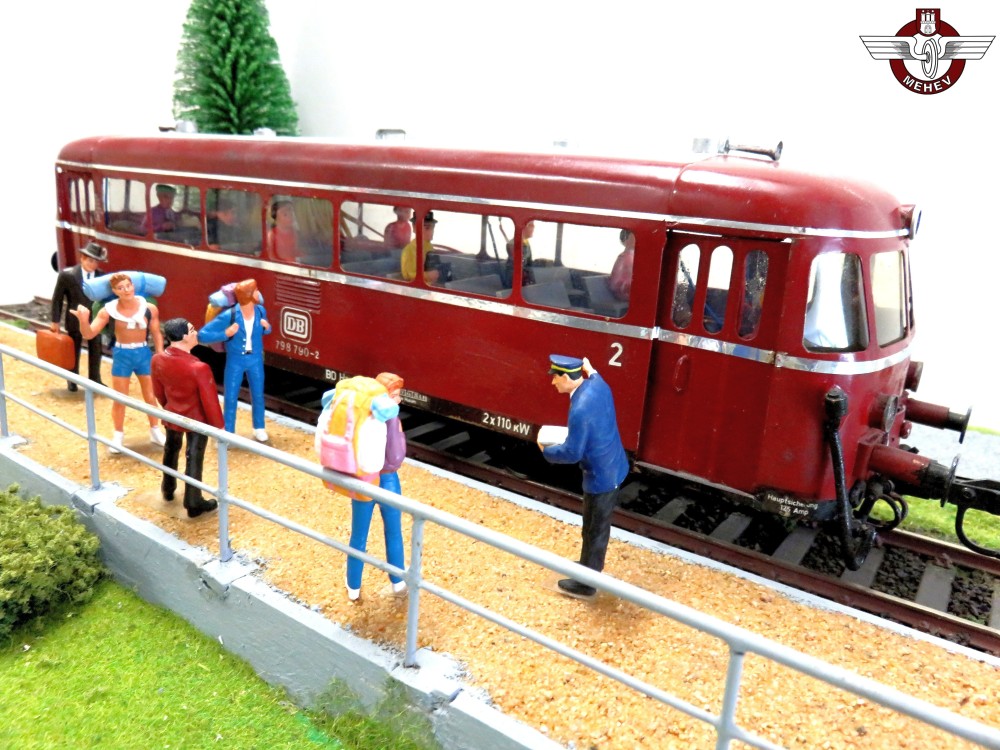 (
Further information here
)
---
To all young people!
Are you interested in model railways?
Hardly any other hobby offers such a variety of employment opportunities. If you are at least 14 years old, you will find like-minded people in our youth group. Just come by to get to know us - without becoming a member right away - to see if you like the various tasks and work on the model railroad.
Our youth group meets on Saturdays between 10:00 a.m. and 4:00 p.m. in the Museum for Hamburg History on the 3rd floor. Here you can participate in the redesign of gauge 1 modules.



On our modules the trains run with decoder and should be controlled with a smartphone. Our youth group has set itself the goal, Sound, light and other functions can be switched. Exciting tests are already taking place.
Under guidance you will learn all necessary techniques such as woodwork, track construction, electrical wiring as well as house and landscape construction. Depending on your inclination, there is also the possibility that you will participate in the construction of the large club complex. The members will show you what is to be done on our model layout, or which preparatory work is necessary for the operation. If there are any further questions, the other members can also help you with words and deeds. Of course you will be part of our theme-related excursions and you can help out when we present ourselves in public.
Let yourself be surprised how diverse model railway construction is. Experience the fascination of "railroad"! Have we aroused your interest? Then we look forward to your visit. Please contact us by e-mail info@mehev.de.
---
Virtual tour on the "Harburg side"
---
This year the

Modelleisenbahn
Hamburg e.V.

will be 91 years old
(Postcard: 9 vehicles from 9 decades)
---
---
Our association has released a DVD with 42:30 minutes runtime with recordings from operating on the hump, by train from the perspective of the driver and the building up to the current operation of the model. The DVD can be received by remitting € 11, - to MEHEV, IBAN DE67 2019 0003 0044 1400 02 stating the delivery address, or € 9, - be purchased directly at the model railway.
A small presentation of the modelrailway:
(
Download Flyer Modelrailway Description
[312kB]
)
You find us in the Museum für Hamburgische Geschichte on the 2nd Floor
at Holstenwall 24, D-20355 Hamburg,
it would be best to go by public transport.
U-Bahn (underground railway):
Line

U3

to station St.Pauli


Bus:
Line

112

to bus stop Museum für Hamburgische Geschichte
Line

16

and

17

to bus stop St.Pauli


S-Bahn (suburban railway):
Line

S1

/

S2

/

S3

to station Landungsbrücken
+ approx. 10 min walk


Parking places for handicapped visitors are directly at the museum, more parking places are at Holstenwall and at Glasischausse
(possible with parking charge).

| | |
| --- | --- |
| From Hamburg and surround (phone +49 40 19449, Hamburg transport association) | |
| From other places (german railway) | |
Regular opening hours
of the Museums für Hamburgische Geschichte (new since 2018):
| | | | |
| --- | --- | --- | --- |
| Monday | 10 am | to | 5 pm |
| Tuesday | - | closed | - |
| Wednesday to Friday | 10 am | to | 5 pm |
| Saturday, Sunday und legal holiday | 10 am | to | 6 pm |
Regular presentation of the modelrailway:
| | | | | | | | |
| --- | --- | --- | --- | --- | --- | --- | --- |
| Monday | 11 am | 12 am | - | 2 pm | 3 pm | 4 pm | - |
| Tuesday | - | - | closed | - | - | - | - |
| Wednesday to Friday | 11 am | 12 am | - | 2 pm | 3 pm | 4 pm | - |
| Saturday, Sunday and legal holiday | - | 12 am | - | 2 pm | 3 pm | 4 pm | 5 pm |
Please catch up on admission charge and further information about the opening hours on the webpages of the
Museum für Hamburgische Geschichte
, the visit of the model railway layout is included in the admission charge of the museum.
Visitor of the "Miniaturwunderland" will get a reduction on the same and the following day. From the "Miniaturwunderland" you can go to the station Baumwall take the U-Bahn "U3" with direction Landungsbrücken - Schlump - Barmbek to station St.Pauli.